Things to do in Austin this weekend. When and where to do them. Brought to you by:

Smoking Burnouts
Friday, January 27th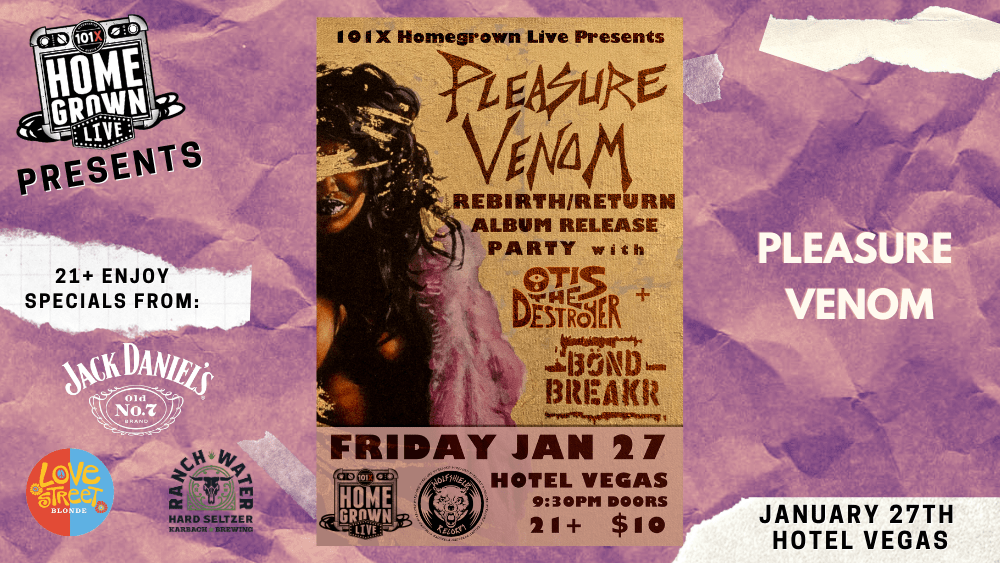 101x Homegrown Live Presents: Pleasure Venom Album Release Party | 9:30 p.m. | Hotel Vegas
Now's your chance to get familiar with Austin's local music scene…Austin implants, I'm looking at you. Join 101x at Hotel Vegas to listen to local artists Pleasure Venom, Otis The Destroyer and Bond Breaker. ROCK OUT with your KARBACH out, and enjoy 21+ drink specials on Ranch Water, Love Street and Jack Daniel's. RSVP to the event here. $10 cash cover at the door.
Four Record Friday with When Where What | 5:30 p.m. | Higher Ground
Head over to Austin bar, Higher Ground, and get a chance to win the four vinyl records When Where What will be giving out for the evening. This Friday includes albums from HipHop artists Young Thug, Gunna and YSL. The four albums will be playing throughout the bar. After the last song, the winner will be announced. Details for entry can be found in the post above. FREE entry.
Saturday, January 28th
Vintage Pop-up Market | 12 p.m. | Monkies Vintage
Shopping vintage/resale can be cost effective and good for the environment. Elevate your wordrobe and find unique vintage pieces at the Monkies Vintage Pop-up this saturday. Monkies hosts vintage market pop-ups every Saturday with a new set of vendors for every market. So, be sure to come out this weekend to make sure you don't miss any good finds. FREE entry. Happy thrifting!
Stars at Night's Winter Formal: Punk Prom Night | 7 p.m. | Kick Butt Coffee
What's more punk than a tasty cup of coffee? There's nothing better than sitting back and relaxing with a cup of coffee and a punk rock show. Star's at Night presents their Winter Formal with a punk rock theme. Catch bands Live Another Day, The Clastic, Party Ghost and more. Be sure to dress the part: Doc Martens, mohawks, anarchy symbols and all. Entry is $10 at the door, all ages.
Sunday, January 29th
https://www.instagram.com/p/CnxHsKup7Uy/
The Lucky Duck 3-Year Anniversary | 12 p.m. | The Lucky Duck
As School House Rock once said, "Three, that's a magic number." Cure the "Sunday scaries" and celebrate the 3-year anniversary of Dirty 6th's gem, The Lucky Duck. Nothing prepares you for the week ahead better than FREE tacos and, chips and queso. Plus, drink deals including $3 espresso martinis, $7 champagne bottles and Lucky Duck goodie bags.
All Weekend-Long, January 27th – 29th
Star of Texas Tattoo Art Revival | various set times | Palmer Events Center
Star of Texas presents the Tattoo Art Revival, Texas' largest tattoo convention. The convention will stretch over the entire weekend with free entry for children under the age of 12. Event-goers have a chance to witness the "Tattoo of The Day" contest held each day of the convention. Friday, doors open at noon and close at 10 p.m. with the contest held at 9:30 p.m. Saturday, doors open at 11 a.m. and close at 9 p.m. with one contest beginning at 2 p.m. and the tattoo of the day contest at 8:30 p.m. Sunday, doors open at noon and close at 7 p.m. with one contest beginning at 2 p.m. and the tattoo of the day contest beginning at 6 p.m. Find the link to tickets here.
This list was curated by Intern, Mackenzie Akin. Mackenzie is a senior at Texas State University, majoring in journalism. She has a passion for live music and digital content creation. You can connect with her on LinkedIn or Instagram.