Shag formally known as "Redbull guy" came to give us a visit in the studio today. Shag used to be the marketing manager of Red Bull and hook Jason up with all the highly caffeinated products. Since then he has moved on to bigger and better things! He's now on television and super famous, way more famous than Jason and Deb. His show is on the Motor Trend network and it's called "Iron Resurrection." The premise is finding busted up old motorcycles and cars and restore them to a beautiful automobile. Shag's job is finding the falling apart cars and bikes and brings them back to the shop. The 4th season just began and you can catch new episodes Wednesday nights on Motor Trend. In addition to being a famous television star, he runs a tiny motorbike tour company. You can tour both Austin and San Antonio for now! Check it out and book your tour ASAP.
That Guy 
Guy who says you got your significant other a bad Valentine's gift, don't be that guy. Jason shared with his other show hosts the present he got for Bumblina for Valentine's day. Jason got Bumblina an Instant Pot for Valentine's Day and his co-hosts thought it might come off as a little sexist. Jason didn't intend it to be a gift insinuating for her to make food for him. Jason intended it to be a thoughtful gift for his girlfriend, who is also a busy and mentioned she would want an easy cooking appliance. Jason thinks it was a great gift because it will save her a lot of time, and that way she can spend more time with her son… or Jason! 
Flash Back Dance 
We have our annual flashback dance coming up. Come dance with us at the Parish on Friday the 28th! There will be a costume contest for best throwback costume!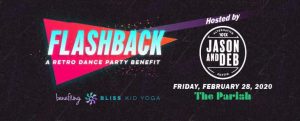 News
Update from the news story we covered yesterday, Cheddar Bay Biscuits are still unlimited. 
We are here to set the record straight. CBB's are unlimited. #truth

— Red Lobster (@redlobster) February 18, 2020
Wallet Hub released its list of best US capitals to live in.  
Lark Vorrhies was hurt that she was left out of the Saved By The Bell reboot. 
Sports 
A Fan is suing the Astros claiming that their ticket prices increased because they were winning by cheating. 
John Beilein was fired as the Cavalier's head coach. 
Ronda Rousey is getting into the video game streaming business.