Today we discovered what might go down in the hall of fame of ridiculous Jason and Deb arguments. Deb saw that the University of Texas played Lamar last night. Deb wondered if it was North or South Lamar at first. This brought us to the discussion of who would actually win in a street fight? Street vs. Street… in a street fight. Deb argues that the North Lamar area with their Runbergs and Anderson lanes could totally beat the likes of Manchaca and Stassney. We took it to twitter and put a poll up, but this will most likely become a never-ending debate. 
Who wins in a fight to the death?

— Jason and Deb (@JasonAndDeb) February 20, 2020
#TBTwJnD 
It's Thursday which means we dive into the past and remember the good times during #TBTwJnD. This week we are reminiscing on past Flashback dances since this year's dance is coming up next Friday! Check out our costumes from years past. In order to find out what this year's costumes are you'll have to come to Flashback on Friday the 28th at the Parish! 
Parents In Studio 
Producer Katy's parents are visiting and brought the whole crew some tacos this morning. They managed to not embarrass Katy. Jason was a little nervous because he talked about a time he had parking garage sex in front of her parents. He knew they listened to the show but now it was different having to look at them. Jason told Katy that it was fine because her parents have also probably had parking garage sex before. This might be the last time her parents visit the studio.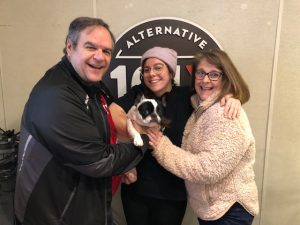 News 
Wallet Hub came out with a list of the most sinful states. 
Back to the Future is now a musical in England. 
Bone Thugs n Harmony changed their name to "Boneless Thugs n Harmony."
Sports 
The University of Texas ended its 5 loss streak with a win against TCU yesterday. 
Greg Robinson formerly of the Clevland Browns was arrested for possession of 157 pounds of marijuana.