2020 is a major election year and with everything going on we thought it would be helpful to put together a voting resource with information you might need.
Interested in working at the polls? Travis County is looking for people to join the election team! Get all the details on how you can help your community, applications for these paid roles are available to view here.
Travis County Clerk – Wait Time Map
Important Dates:
Tuesday, November 3, 2020 Presidential Joint General and Special Elections

Last Day to Register to Vote
Monday, October 5, 2020*
First Day of Early Voting in Person
Tuesday, October 13, 2020
Last day to Apply for Ballot by Mail (received, not postmarked)
Friday, October 23, 2020
Last Day of Early Voting in Person
Friday, October 30, 2020
ABBOTT ORDERS COUNTIES TO CLOSE BALLOT DROP-OFF SITES
https://www.statesman.com/news/20201001/abbott-orders-counties-to-close-multiple-ballot-drop-off-sites
How Do I Register to Vote?
Request an Application for a Ballot by Mail
---
What about voting by mail?
Currently in Texas you still need to have a reason beyond COVID-19 fears. More info by clicking here.
Application for a Ballot by Mail
To be eligible to vote early by mail in Texas, you must:
be 65 years or older;
be disabled;
be out of the county on election day and during the period for early voting by personal appearance; or
be confined in jail, but otherwise eligible.
Instructions for submitting an Application for Ballot by Mail ("ABBM"):
Print (PDF) the ABBM form
OR submit an order online and an ABBM will be mailed to you.
Complete Sections 1 through 8.
Sign and Date Section 10.
If you were unable to sign the application and someone witnessed your signature, that person must complete Section 11.
If someone helped you complete the application or mailed the application for you, that person must complete Section 11.
Affix postage.
Travis County Voters will be able to hand deliver their own mail-in ballots beginning Oct 1-Nov 3. There will be 4 drive-thru locations:
5501 Airport Blvd
700 Lavaca Parking Garage via Guadalupe
700 Lavaca Parking Garage via Lavaca
1010 Lavaca Parking Lot via W. 11 St.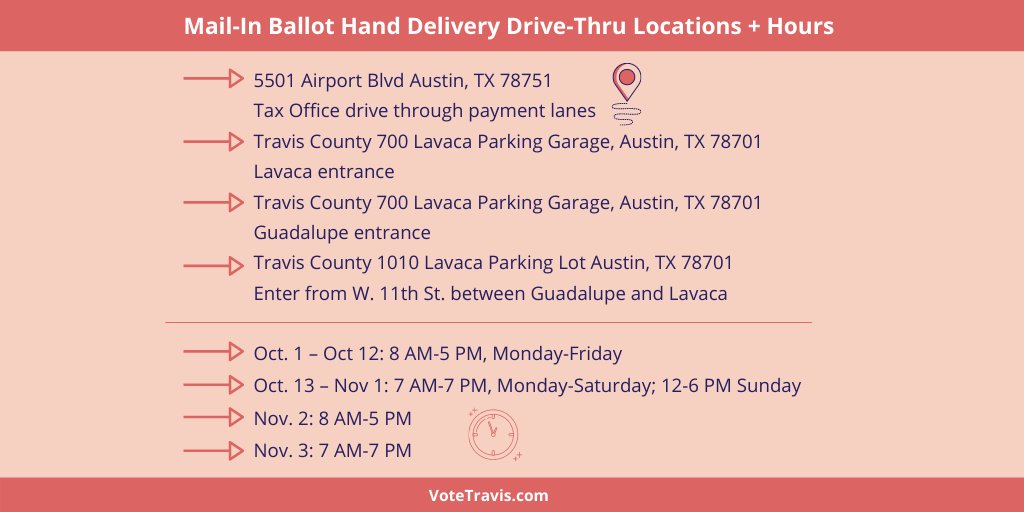 Where do I go to Vote?
---
Who Represents Me?
Form not working? Try this link: wrm.capitol.texas.gov
---
How to get involved with the City of Austin
The website for the City Clerk contains all the information you might need to get involved on the city level: austintexas.gov