Jason and Deb
KNIFE GIRL:
Deb's Nicaragua trip is coming up soon! After actually securing the plane to her destination, Deb went shopping for some essential items. These included some DC high-tops and Chinese protein shaker balls that could easily be repurposed as Christmas decorations. Even our Bang Good water-resistant laundry/pillow/whatever bag came just in time! One of the things she picked up is a huge multi-tool with a sharp knife pretty well featured in the package. Deb claims it's not only for defense but also for lots of pineapple cutting and spear forming, just in case. Deb's definitely a knife girl now, so you better watch out cause she's a cut above the rest.
VERY IMPORTANT MESSAGE:
We wanted to take a pause from the fart jokes to tackle a serious subject. A close friend of Jason and Deb suffered a terrible loss recently. A fourteen year-old kid died when he participated in what's called "The Choking Game," another attempt to get a "high" feeling for kids that don't want to take drugs or alcohol. This is something that needs to be stopped. Kids are also suffering from the apparent addiction the pseudo-high offers, but many of those affected were harmlessly redirected from other Internet challenges. Please talk to your children or children you care for to avoid any more tragedy. Read more about The Choking Game here.
JASON'S POKER SKILLZ:
Jason's really got the stereotypical poker player look on lock-down. He's leaving the station on vacation to take part in the World Series of Poker (how many of these tournaments are there?) for several days. Although Deb wouldn't touch Vegas with a ten-foot (3 meter) pole, she and all of us here at 101X wish Jason luck and continued success with Jason Dick Poker Enterprises. Just be sure to maybe remember all those supporters when you win big Jason.
THAT GUY:
Wednesdays we shine a light on That Guy – the guy (or girl) who does something douchey and either doesn't realize it or doesn't apologize for it. Jason loves bringing up his ridiculously high winnings from poker tournaments, most recently the $22,000 he won a few weeks ago. There always has to be a That Guy though, and this week it's "yeah but how much did you lose" guy. That Guy is the one who loves to bring up the fact that you definitely lost a lot before coming up victorious. Why you gotta be a buzzkill That Guy?
SPECIAL C OF THE WEEK:
Today is our faux Friday, so in an attempt to appease our Producer Alex for Deb's earlier sass, we decided to let him take a crack at calling someone the C word, the worst word in the world. Alex actually decided that both of our bozo hosts are worthy of the C word for taking a whole ten days off and making his life an overwhelming heap of work. Sorry Jason and Deb, we hope you have a nice vacation but you're this week's awful, awful C.
PET-OF-THE-WEEK: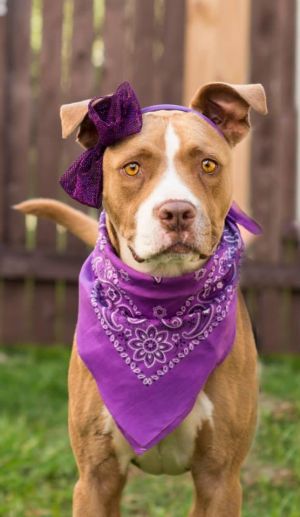 We're all about supporting animal charities and bringing you the happiness of animals in your own home. So you should check out our friends at Love-A-Bull, who are currently looking for a home for Kit. She's low-key, but she'll perk up to play some softball, Give Kit and the other adopt-a-bulls a look here.
And don't forget to check out the pub run that benefits Love-A-Bull.  If that doesn't convince you, how about this:  there's going to be a mechanical bull involved. Sign up here.
I LOVE YOU CALL:
At 8:50 Deb calls a random business and tries to get the person answering the phone to say, "I love you." Today we were hoping to get some love from Chris Furniture in Michigan. Deb sought some outdoor furniture in the showroom and played a quick "guess my accent" with the receiver (Southern German - who knew?). They had a wonderful conversation that ended with Deb dropping a German "I Love You" and received it ten fold. Wir liebe dich auch, Ms. Chris.
DOES DEB KNOW STUFF:
Every day we "trivialize" Deb by asking her quiz questions, then laughing when she doesn't know the answers. Today we decided to quiz our wonderful co-host about Nicaraguan facts in order to prep for her upcoming trip. The current president "General Nicaragua" (not his real name) should be sending a welcome wagon for Deb, but hopefully she'll be able to recognize the flag once she gets there.
NEWS:
Criminals be so dumb man, according to our too-smart-to-be-a-criminal Jason Dick. Nicholas Wig of Minnesota was arrested for burglary but should have been arrested for being incredibly stupid. Wig checked his Facebook profile mid-robbery and left his account logged in, resulting in his swift identification and arrest.
Wholly cow! Whole Foods is looking to pay a hefty fine for overcharging customers in their California locations (just California?). Jason weighed in on the false prices and judgey individuals, but Deb defended the Austin-based chain. Regardless, the lawsuit should give the company some food for thought.
Deb sure does love those policemans. Houston area police officers saved a woman's life who was about to be ran over by a train. The officer swooped in a saved her at the last minute after being flagged down by a concerned observer. His heroism is definitely commendable, but don't take Deb's advice to kiss the next police officer you see. It might be a little de-railing to them.
SPORTS:
Lebron James (very arguably the #1 athlete out there) opted out of his contract with the Heat. James could sign back with the Heat but Jason thinks the Houston Rockets are a prime candidate for Lebron. The possibilities are seemingly endless, but Deb couldn't really care less.
FIFA has ordered an investigation for the chief player of Uruguay Luis Suarez for biting rival players. The very clear video evidence proves his misconduct, as biting players is definitely not acceptable in the rules. Suarez was suspended for potentially harming other players, but his involvement should be pretty jaw-bvious.
Great disappointment is to be expected after the tied U.S. v. Portugal game; one man literally flipped out of a second-story window due to overexcitement. The U.S. soccer fan cartoonishly landed on a ground-level awning and escaped any major injury. He'll live to see the 'awn of a new day.
Jason and Deb