Jason and Deb
INTERESTING GET-UPS:
Ever since getting back from vacation, Deb has stepped up her game in the "Interesting Get-Up" department.  This was today's entry, including a cat wearing similar hipster glasses to her own.  We have two questions:  What? and Why?
DEB CAN'T ENJOY THE POOL:
Yesterday, Deb went to Gibbons Park with her friend/Jason's roommate, Jeff. While he was trying to take a nap, Deb heard a soft whistling sound. Well, Jeff heard it too and it ruined his nap, so Deb tried to take care of it. She found out that it was the lifeguards at the pool softly blowing into their whistles. Deb was frustrated because they are not in a band and they are abusing community property by using whistles as their own personal music device. Jason was not sympathetic because he thought that it was one of the stupidest things Deb has ever complained about.
CLEANING THE LOCKERS:
Producer Alex had to clean out the lockers from our office because they're doing some construction. He told us that he found some really odd things. Deb had a signed Donnas poster, two books, and a notebook from when she first started at the station. She read some of the things that she wrote down in her notebook, and they were really funny, but kind of crazy sounding. One of the highlights was that she wrote "Austin, the human capital." What in the world is she talking about?!
C OF THE WEEK:
Fridays Deb calls the one person who's wronged her the most that week the C Word - the worst word in the world, although she uses it jovially. Deb is really bothered by the cost of prescription medication. She has to pay fifty dollars for her inhaler that she needs daily. Deb just doesn't understand how something that could help someone's health could be so expensive. Therefore, pharmaceutical companies and the government are this week's awful C of the week.
NICK IS OFF HIS MEDS:
Producer Nick has announced that he is off of pot for the month. He was recently diagnosed with ADD and takes general medication for it. He also has to take drug tests every few months to show that he's actually taking the medication and not selling it. Nick already said that he blew his only freebie on his first test, so now he needs to stop the pot or else it's bad news. He already "relapsed" a few days ago and needs to be clean for the test. Jason offered his pee, but Nick refused. Keep your pee to yourself, Dickman.  
DENNIS DE LA PENA:
Fridays we talk to a real sports expert, Dennis de la Pena from Fox 7 Sports. Dennis gave us his opinion on the LeBron James decision to stay with Miami or go back to Cleveland. He then commented on how many people are still interested in watching the World Cup, even when Team USA is out. Dennis also mentioned that Fox 7 was covering the Rangers game this weekend, which led to Jason going on a little rant.
PET-OF-THE-WEEK: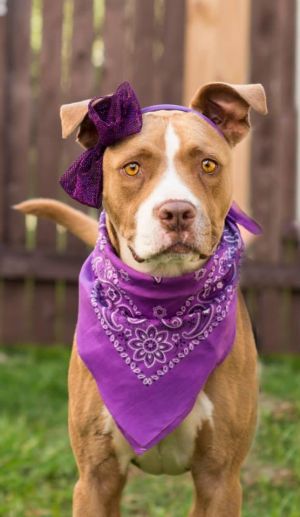 We're all about supporting animal charities and bringing you the happiness of animals in your own home. So you should check out our friends at Love-A-Bull, who are currently looking for a home for Kit. She's low-key, but she'll perk up to play some softball, Give Kit and the other adopt-a-bulls a look here.
I LOVE YOU CALL:
At 8:50 Deb calls a random business and tries to get the person answering the phone to say, "I love you." Today Deb called 208 Tire & Auto Repair in Fredericksburg, VA to see how long it would take to get her car inspected. Sergio was nice and told her it would only take a couple of minutes. Deb almost lost the "I Love You" when Sergio started laughing, but he came through and gave Deb some love.
DOES DEB KNOW STUFF:
Every day we "trivialize" Deb by asking her quiz questions, then laughing when she doesn't know the answers. Today we quizzed her on Game of Thrones Emmy Nominations trivia. Unfortunately Deb didn't know too much about Game of Thrones nominations. It's okay though; neither did the rest of us. All we know is:  Hodor.
SPORTS:
LeBron James still hasn't announced if he is staying with the Miami Heat or going back to the Cleveland Cavaliers. He decided to go to the World Cup finals instead of making his announcement.
UT is not going to serve beer or wine at DKR. UT's Chancellor, Francisco Cigarroa, said that they don't have enough experience to sell beer or wine, so the solution is to not serve it.
Javier Mascherano of Argentina said that he tore his anus in Argentina vs. Netherlands. We're seriously hoping that this is just a typo.
NEWS:
President Obama was in town yesterday to give a speech about immigration.  During his speech, two men who wanted Obama to end deportation heckled him. Instead of kicking them out, Obama met with the two men to talk after his speech.
Emmy nominations came out yesterday. Game of Thrones was in the lead with nineteen nominations. Also, Teenage Mutant Ninja Turtles on Nickelodeon was nominated for Outstanding Animated Program. 
Jason and Deb