FUN FUN FUN Fest Blog
Tacos, Reunions, and Iceman, Oh My! My Reflections on Fun Fun Fun Fest
Austin's Fun Fun Fun Fest is an annual breath of fresh air amongst the repetition of festival season; the hipster lovechild of bigger outfits like Lollapalooza and your favorite dive bar. So it's no surprise that each year, Fun Fun Fun Fest brings with it a mix of eclectic acts, hilarious comedians and eccentric promotions, closing out the annual barrage of festivals with an off-beat bang. And I had a great time at the bon voyage. Here are some of my highlights from the weekend.
Looking for more? Check out photos of days 1, 2, and 3.
The Iceman Cometh
fffest_2012_day1_82__1600W.Jpeg
Former Top Gun actor Val Kilmer is in town for the untitled Terrence Malick flick that's brought both Ryan Gosling and Natalie Portman to our fair city, and he took his role to a new level Friday evening. Billed as a "special performance featuring Black Lips," the half hour long spectacle was a weird mind trip of an event, with a seemingly intoxicated Kilmer sauntering on-stage in a blur, knocking over instruments and eventually chopping off his luscious locks. It was weird. Really, really weird.
Reunions Galore
fffest_2012_day1_89__1600W.Jpeg
FFF Fest marked the first performance from Run-DMC in 13 years, which brought hits like "It's Tricky," "Rock Box," and "My Adidas" to the Austin crowd. Jam Master Jay's absence was made up for by the presence of his sons, Jason "Jam Master J'Son" Mizell Jr. and T.J. "Dasmatic" Mizell, who stood in for their late father. Also taking the stage together for the first time in ages was Swedish punk outfit Refused, who use their FFF Fest performance as an end cap for their recent reunion. And the crowd went nuts for every minute of it.
Taco Cannon, FTW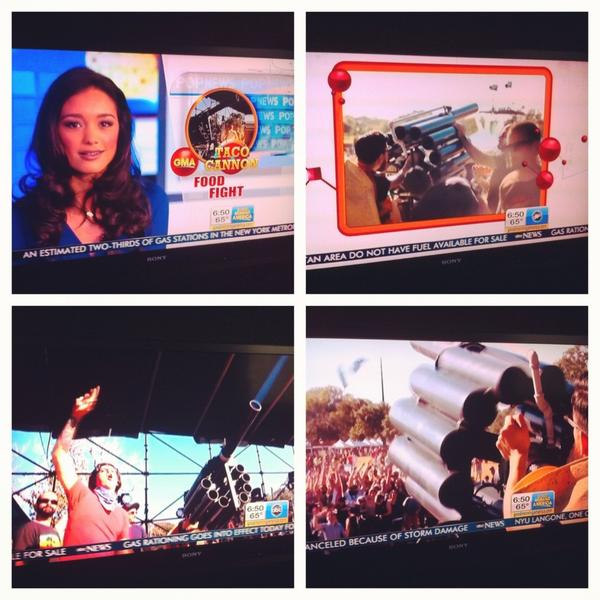 If there's anything to be said about the folks that put together all the fun, it's that they definitely know how to think outside of the box. This year's taco cannon was certainly no exception, catapulting Mexican cuisine into the crowds on the regular. Even Good Morning America got in on the taco cannon love.
Magneto's The Man
fffest_2012_day1_78__1600W.Jpeg
Michael Fassbender may be best known for bearing all in Shame, but he's also become an honorary Austinite as of late. He's yet another one of the handsome men attached to Terrence Malick's upcoming film, and he was a real fixture backstage at FFF7.
Get Ready for More Japandroids
fffest_2012_day3_29__1600W.Jpeg
Canada's Japandroids were THE band to see this year, drawing one of the biggest crowds the black stage saw during the fest. While the duo complained that the heat was getting to them, they rocked hard, and if the singing masses were any indication, their staying power is strong.
Comedy is King
fffest_2012_day3_39__1600W.Jpeg
The yellow stage drew huge comedy names this year, with David Cross, Eugene Mirman, Doug Benson and more stopping by. Those lucky enough to get into the tent during the festival enjoyed some laughs (including a pretty long riff from David Cross on festival closer Edward Sharpe and the Magnetic Zeros, or "Hippie Jack and the Magic Beans," as he referred to them). However, crowds seemed to be a problem at this stage, and with the orange stage nearby, it was often difficult to hear.
Macklemore Takes a Stand
Seattle rapper Macklemore appeared on Ellen just days before taking the stage at FFF Fest, performing his marriage equality anthem "Same Love," a track that's generated a ton of buzz. The crowd was out in full force for the relative unknown, and when he performed the song live, hands went up in the air and cheers of support echoed through the grounds. It was a powerful moment, made more powerful by it's proximity to the Presidential election. Check out his Ellen performance below.
Explosions in the Sky Charm Their Hometown
fffest_2012_day3_84__1600W.Jpeg
Austin's Explosions in the Sky served as a stellar warm up for closer Edward Sharpe and the Magnetic Zeros, their ethereal acoustic sounds soothing exhausted festival-goers into a trance of musical elation. Coach Taylor would have approved.
There you have it! I had fun fun fun, and now I'm tired tired tired. Thanks to the crew at Transmission Entertainment for providing yet another awesome close to Austin's seemingly never-ending festival season.